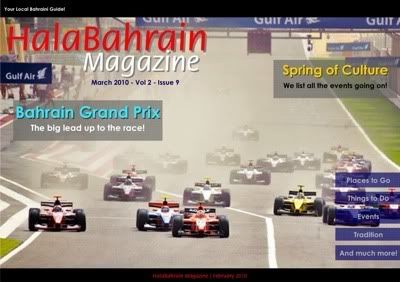 To read the magazine, click the image above.
To download the PDF version, Right Click & Save As HERE (PDF)
- Maz Jobrani live in Bahrain! We're giving away tickets; answer the simple questions on
page 15
for a chance to win!
- Spring of Culture: With a full month of concerts, lectures, and shows, we've listed the best of what to see this year!
- Lead up to F1: Bahrain hosts the first Formula One race this year; we check out the lead up to it, what events are going during, and more!
- New Telecom: With Viva in the market, what's your best offer in terms of phone calls, mobile services and internet? We lay it all down!
- Also in this issue: Coverage of the Race Zone at BIC, local talent shows, music concerts, and much more!
To read this issue online, click here:
March 2010 Issue
To download the PDF for this issue, right click & choose 'Save As':
Download February 2010 PDF