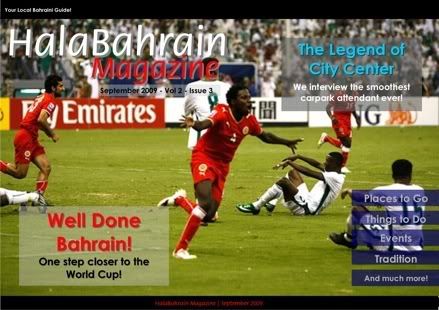 To read the magazine, click the image above.
To download the PDF version, Right Click & Save As HERE (PDF)
- The Legend of City Center: Ever been to City Center? Ever noticed a parking attendant always smiling and waving you through? Yup! The Legend of City Center, Mr Smooth, Gulzar Ahmed! We have a full interview with him, to find out what makes him smile!
- Bahrain Win! Yes, after a close match with Saudi, Bahrain wins and we are now that much closer to getting to the World Cup!
- Bahrain Talent Show: UrFilez hosts the Bahrain Got Talent show in Seef Mall, with rappers, singers, dancers, drummers and much more showing off their skills!
- Also in this issue: An intro to Fashionaires, a showcase of Gergaoon this year, drifting and autocross at the BIC, and much more!
To read this issue online, click here:
September 2009 Issue
To download the PDF for this issue, right click & choose 'Save As':
Download September 2009 PDF