To read the magazine, click the image above.
To download the PDF version, Right Click & Save As HERE (PDF)
- Aqua Fuego: Newly open, a club with a twist! Aqua Fuego is not your regular nightclub; featuring different talents on selected nights, and amazing fire and water shows, it's definately something worth checking out!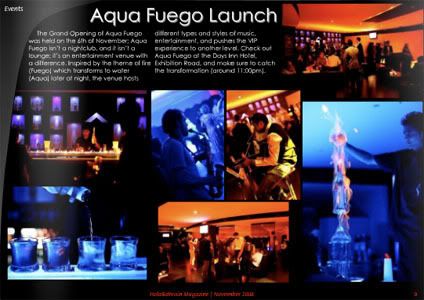 - Gahwt Beirut: A traditional gahwa in the heart of Manama, and probably one serving the best Sheesha in town! A definite hit for hubbly bubbly lovers.
- May Alqasim: You won't believe she's Bahraini! This talented 17 year old started singing and playing the piano from a young age, and is breaking borders with her voice! Her first exclusive interview, right here!
- Also in this issue: Elham group art events, The Wailers live in Bahrain wih their amazing Reggae tunes, a visit to the traditional Arad Fort, the V8 races at the BIC, and much more!
To read this issue online, click here:
November 2008 Issue
To download the PDF for this issue, right click & choose 'Save As':
Download November 2008 PDF