To read the magazine, click the image above.
To download the PDF version, Right Click & Save As HERE (PDF)
- Dubai Desert Rock: The biggest rock & festival event in the region and we were there! And as you can see from our cover picture, Bahrain was represented really well, too!
- Sh Isa Bin Ali House: Not the most well known between tourists, but one of the best places to get a great insight into what traditional building in Bahrain used to be like. A great place for those wanting to find out more about Bahrain's past!
- Imran Al Aradi: We talk to the DJ/Comedian/Everything else! Making waves as a Radion Bahrain DJ, stand up comedian alongside Russell Peters and Axis of Evil, and much more, we have the exclusive interview with Imran!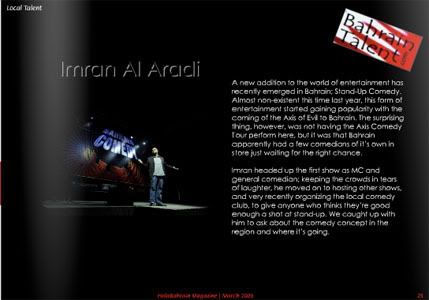 - Also in this issue: Photography tips by Paparazzi owner, Aziza Salman, races at the BIC, Paul Mendez live in Bahrain, local comedy night and Bahrain Fashion Week pre-launch!
To read this issue online, click here:
March 2009 Issue
To download the PDF for this issue, right click & choose 'Save As':
Download March 2009 PDF