To read the magazine, click the image above.
To download the PDF version, Right Click & Save As HERE (PDF)
- Desert Camping: Yes, it's the heart of the camping season! As people put up tents and start sleeping out in Sakheer, there's quite a lot going on; we cover the things to get up to while out there!
- Grand Racing Weekend: A full festival of music, fun, games, and high speed powered racing! The BIC got busy for the GP2 Asia Cup, as well as a host of other supporting races!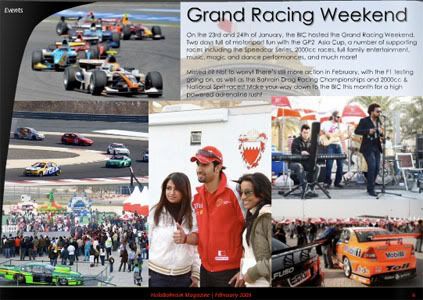 - Elham Events: Elham Group was pretty busy this month, with an event at AlBareh showcasing a number of talents, as well as a full trip out to AlDar Islands to capture everything from imagery and video of dolphins, birds, wildlife, and more!
- Also in this issue: 360 Degrees of Comedy with tons of laughs, new Bahraini taxi's, delicious Indian food at Lanterns Restaurant, and interview with talented Paparazzi owner and Photographer, Aziza Salman!
To read this issue online, click here:
February 2009 Issue
To download the PDF for this issue, right click & choose 'Save As':
Download February 2009 PDF